Cavern Experience
Explore the dark zone of the island

If you're fond of caverns or just attracted by the wonders of darkness, you'll love what Ustica has to show. Whether you're a cavern certified diver or not, you can experience the dark side of the volcano with us through training or guided dives.
Cavern Dive Package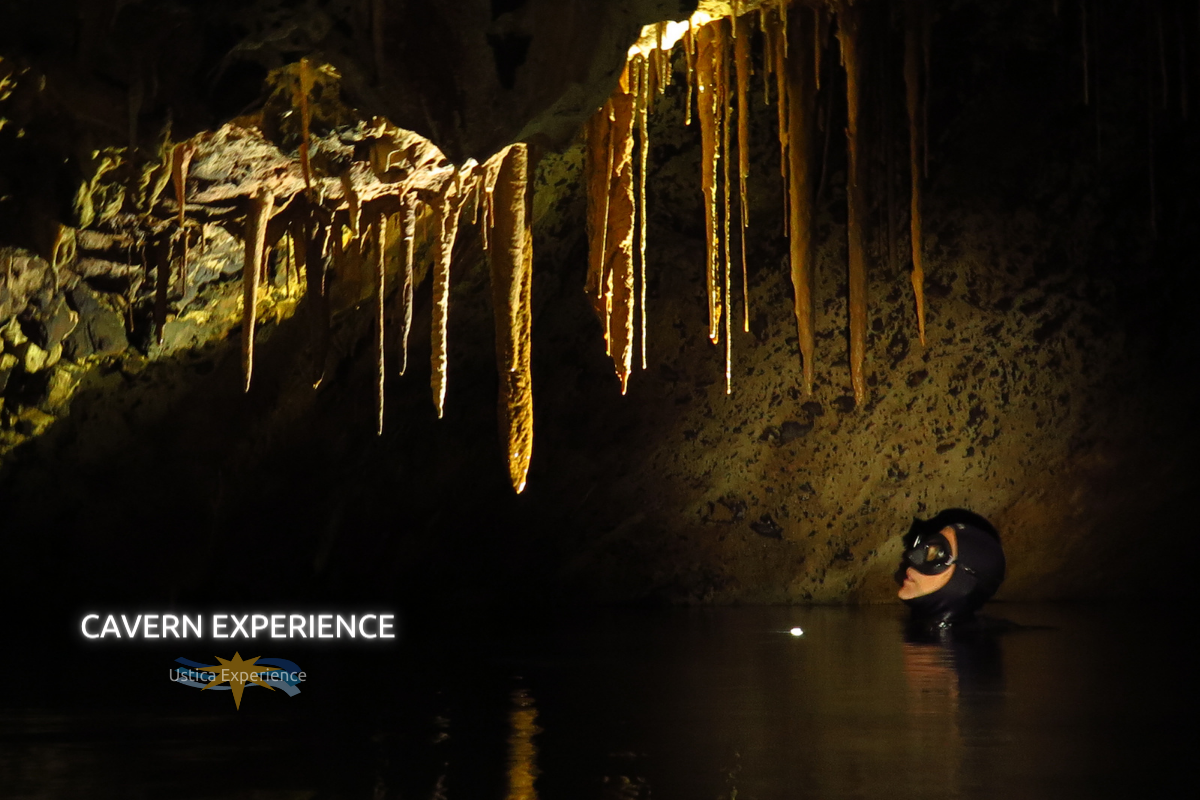 If you love underwater caverns, you are lucky in Ustica: the island, besides its famous protected marine area is also the summit of a submerged volcano that hides numerous cavities and underwater passages.
The underwater caves are part of the so-called "dark-side" of the underwater environment, what we define as Cave Zone. There are at least a dozen underwater caves of various sizes, shapes and depths, many accessible to recreational divers and that deserve a whole holiday.
If you're a qualified Cavern or Cave Diver, live the Cavern Experience in Ustica as your only goal or in addition to your Basic Dive Package (depending on your duration of your stay). A qualified Cavern Dive Guide and a local expert will introduce you to the underwater caves, with a comprehensive briefing and useful tips to visit them safely.
Cavern Diver Course

You probably dove elsewhere in underwater caves and never got certified, or this can be your very first experience: whatever your case may be it will enrich your Scuba Experience in Ustica and make it memorable. While exploring new environments and visiting dive spots where not everybody is allowed and able to go, you will improve your performance as a scuba diver and learn useful skills also for open water dives. 4 dives are needed to complete your PADI Specialty Cavern Diver course: a training schedule that gives you the opportunity to enjoy the discovery of exclusive dive sites of the C Zone.
Note: you need to be qualified as an Advanced Open Water Diver. If not a skilled diver, a Peak Performance Buoyancy training program might be necessary before starting your underwater cavern adventure.

Book Now