Scuba Courses
Why not have a new experience and gain more knowledge? The more confident we are, the more fun we can have. And if not on vacation, then when?
Discover your unique diving aptitude and transform your scuba experience in Ustica in an adventure: deep diving, nitrox, boat diving, peak performance buoyancy are Specialties you can enrol during your holiday. You'll stay in water more than in classroom – and this last one can only be on board!


Expand Your Horizons

Your Open Water Diver certification introduced you to a new realm of exploration and made you keenly aware that you've only just scratched the surface of the underwater world. Continue your scuba journey with the
PADI Advanced Open Water Diver course
. Experience new adventures with a PADI Instructor by your side. Fine-tune your buoyancy skills, build confidence in your navigation abilities, and try new activities like deep diving, night diving or nitrox.
If you're short in time, you can opt for a
PADI Adventure Diver
course and get certified with 3 Adventure Dives at your choice.
Enhance Your Scuba Performance
PADI Peak Performance Buoyancy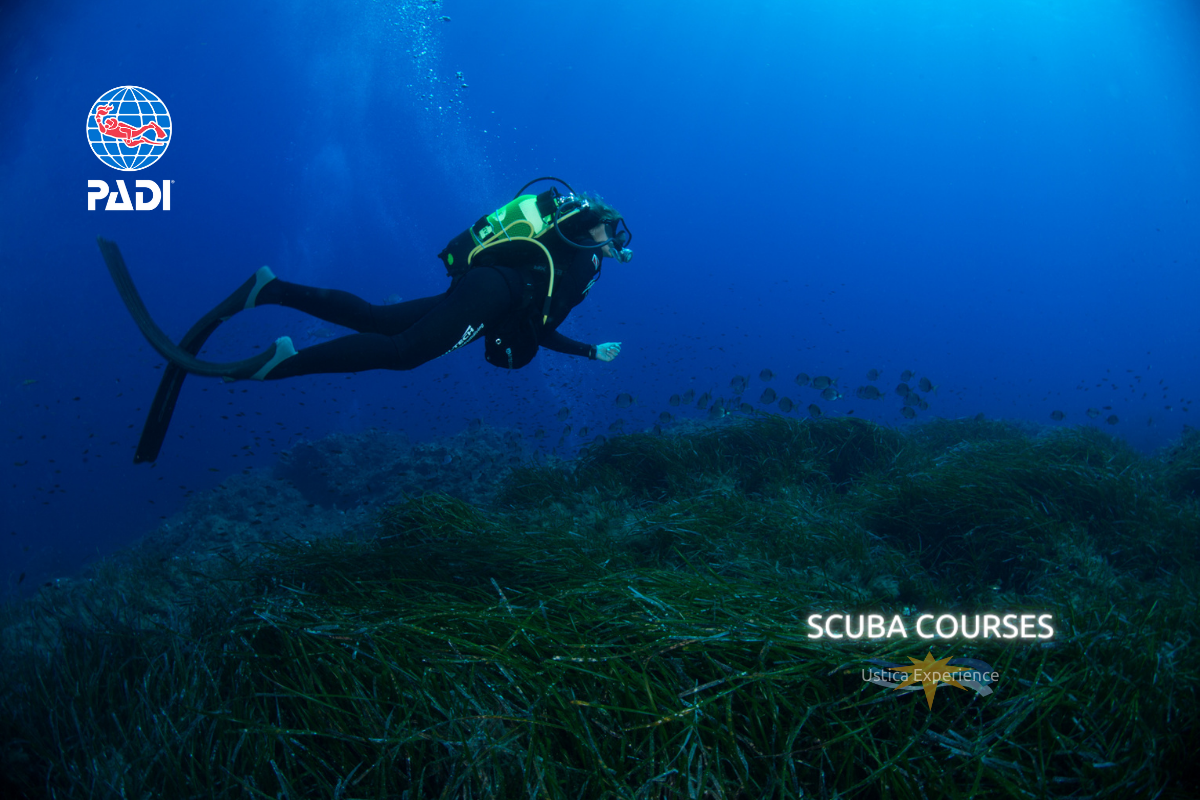 Gliding effortlessly, using less air and ascend, descend or hover almost as if by thought: that's what defines a skilled scuba diver. More than that, what is better than to observe aquatic life without disturbing their surroundings? To improve your buoyancy skills, get into a
PADI Peak Performance Buoyancy course
and elevate them to the next level.


PADI Underwater Navigation Diver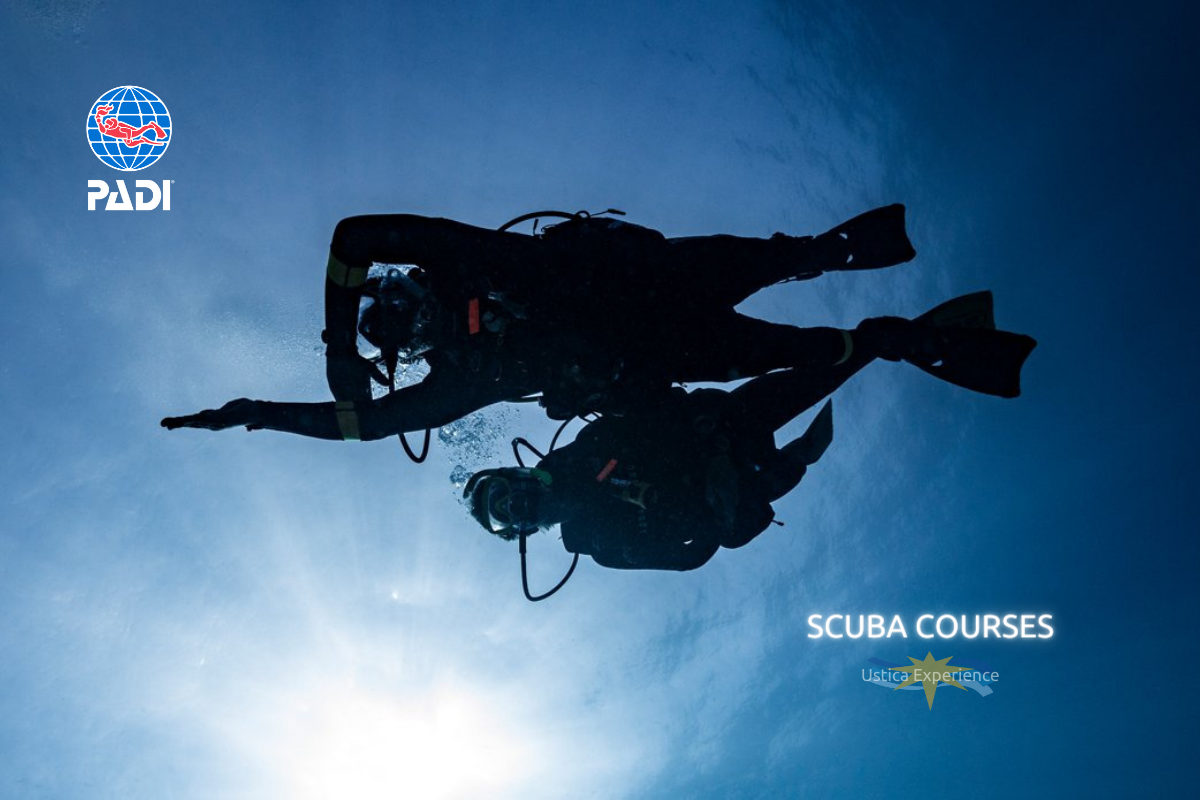 You might enjoy your dive when it's someone else guiding. But isn't it better to know where you are and where you're going? If you fine-tune your observation skills and learn how to use more accurately a compass underwater, you'll be more confident, also when it's not you the one to be followed. More than that, if you like challenges with big rewards, take this course and have fun finding your way.
PADI Boat Diver
Scuba Diving and boats go hand-in-hand, and it's very rare one can be a Scuba Diver and avoid diving from a boat in at least some point in time, especially in Ustica where all dive sites are reachable by boat. While the Boat Diver specialty may not be the most appealing one when compared to Cavern or Deep Diving, it becomes a core essential for any diver starting out in Scuba Diving as it equips you with a skill that you will perhaps most frequently use throughout your diving career. If you're an experienced diver it may not be the most informative course but it can benefit your performance in combined skills, such as "negative-BCD" entries, descents along a line or in the current, use a DSMB or even more enhance your underwater navigation skills.
Explore New Environments

PADI Night Diver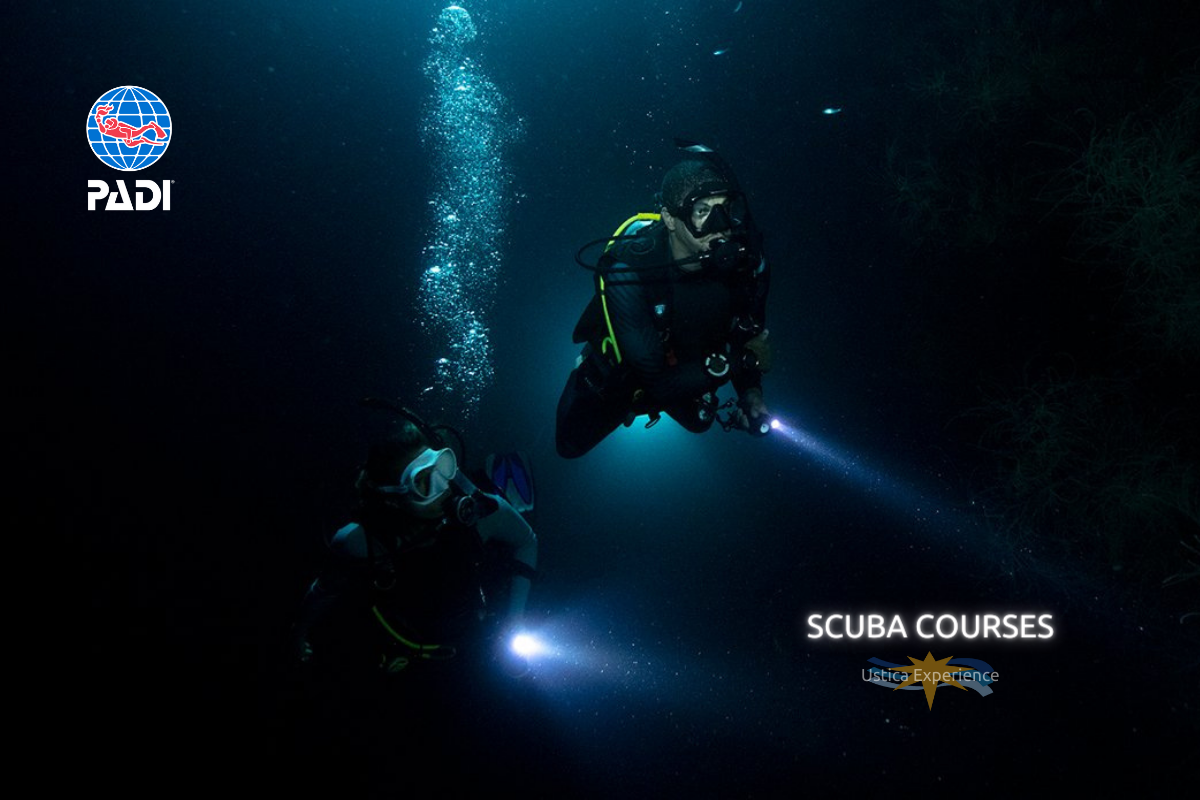 Dive sites differ from each other for the environment. Mostly they vary also when diving in different hours of the day. But when it's by night,
you drop into a whole new world. You can watch it come to life under the glow of your dive light and the scene changes as day creatures retire and nocturnal organisms emerge.
Discover Ustica by night and sign up for the
PADI Night Diver Specialty course.
PADI Cavern Diver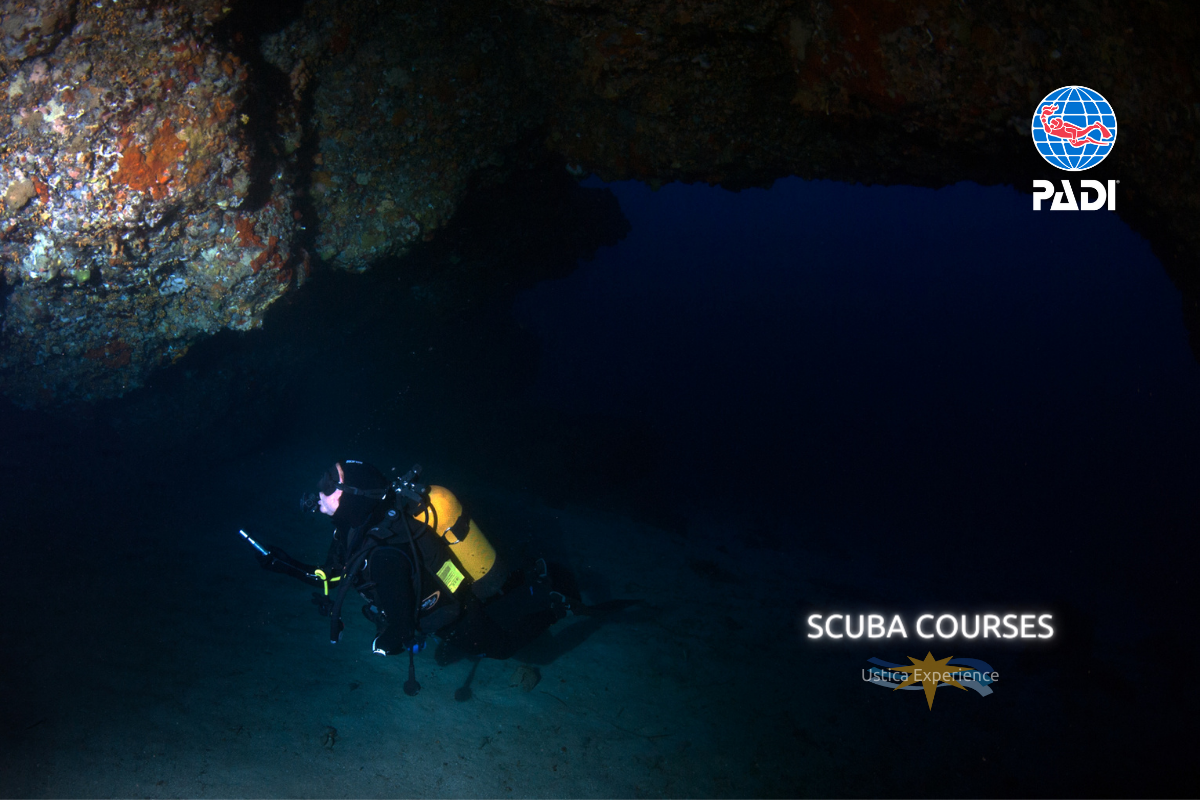 At least 10 dive spots in Ustica offer a cavern or cave: you'll find large, dark spaces that seem incredibly inviting, yet are potentially dangerous. When you've got the knowledge and skills to explore caverns correctly you can enter far enough for adventure, but staying within the light zone for an easy exit to open water. If you're attracted by underwater caves, live the Mare Nostrum Diving Cavern Experience in Ustica, and if you're not qualified as a Cavern Diver yet, get your
PADI Cavern Diver
certification during your scuba holiday.


Continue the Adventure

PADI Enriched Air (Nitrox) Diver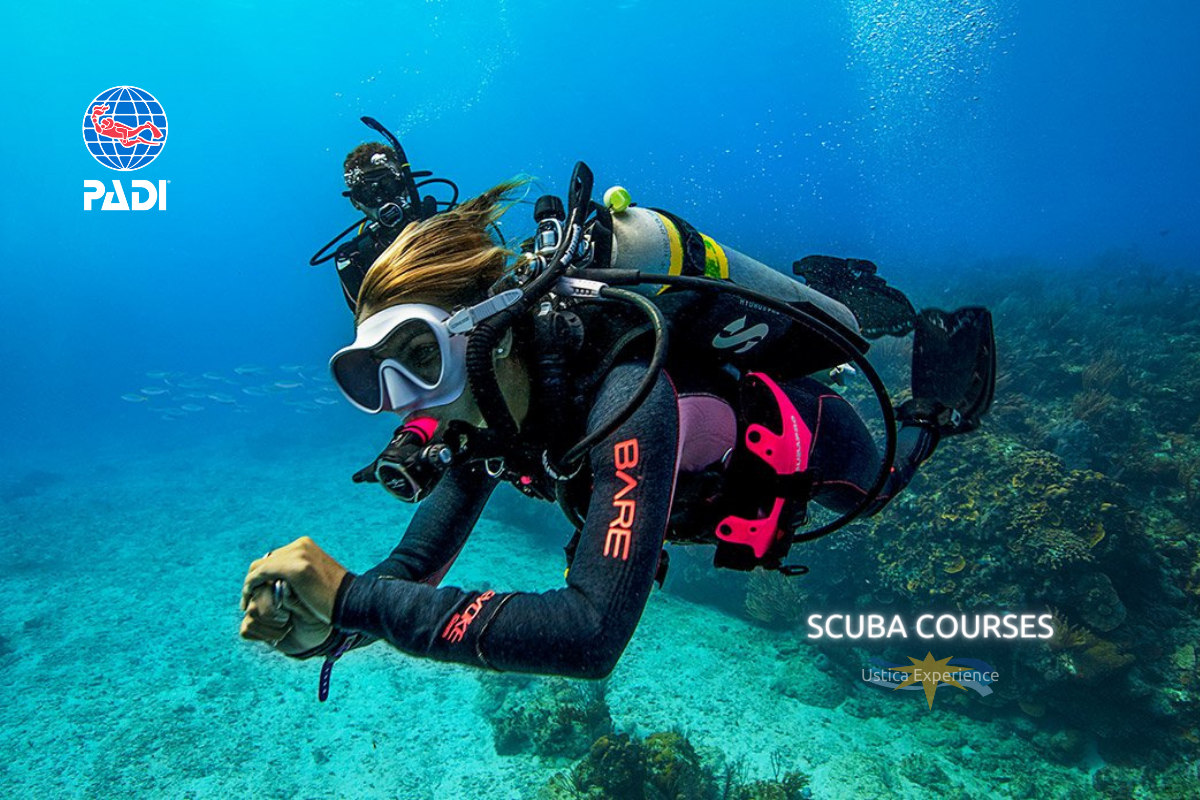 The best way to enjoy a scuba vacation in Ustica Island is with our Linosa Sunshine Day Cruiser: you embark in the early morning and spend half day with 2 dives and surface interval on board, for relaxation, a swim or a snack by the sea. To enhance your experience and make it safer, we recommend using Nitrox, and that's why we do not charge any extra fee to have a Nitrox refilling for your dives. But you need to be certified as Nitrox Diver, so if that's your only barrier, then sign up now your
PADI Enriched Air Diver eLearning course
and gain your certification diving in Ustica with our PADI Instructor.
Deep Diver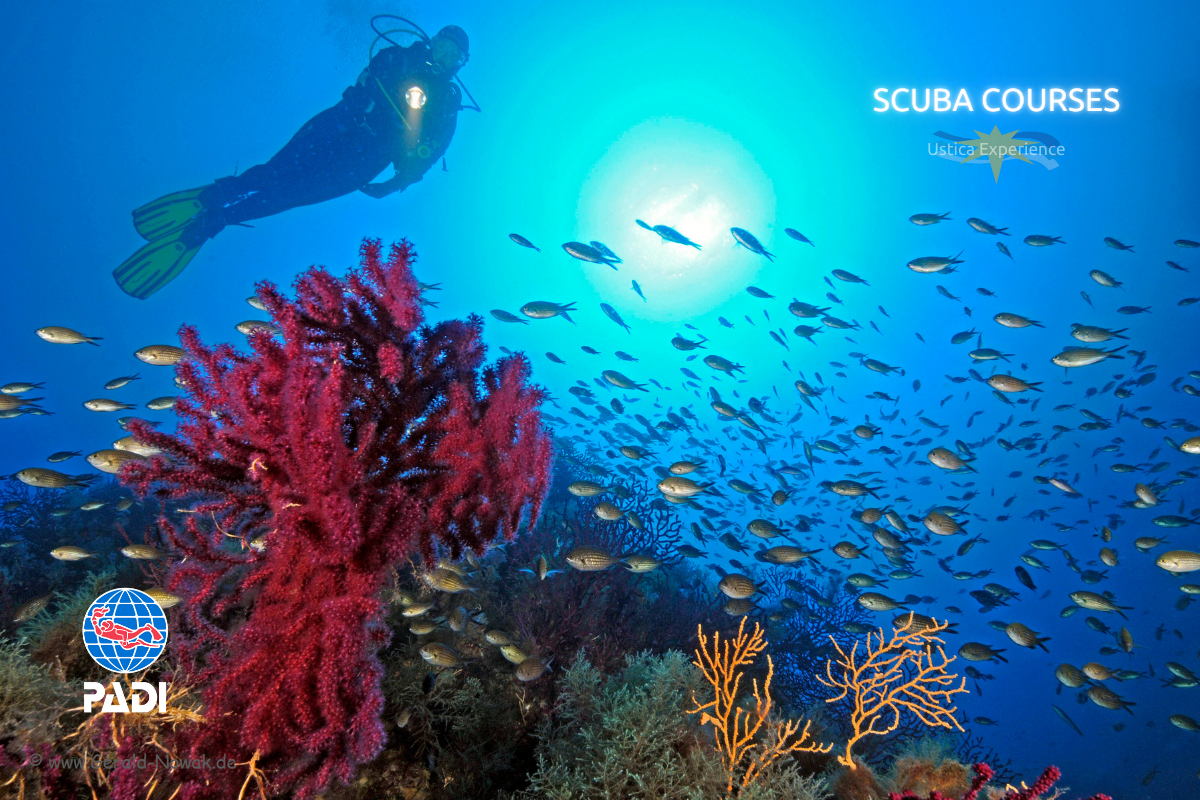 As a Marine Protected Area, you don't need to dive deep to enjoy sea-life and experience gorgeous diving. But as in any other ocean, there are some dive sites that offer unique landscapes because of the depth: gorgonians and corals as well as colourful sponges and deep sea fishes are worth a deeper dive. A plunge into a blue and crystal-clear water column deserves is well worth the visit. As for local standards.
Get to know and Protect Marine Life

We at the Mare Nostrum Diving care about marine conservation and are concerned that recreational scuba divers have a key role in it.It is said "
In the end we will conserve only what we love; we will love only what we understand; and we will understand only what we are taught
."
We believe a scuba vacation can be an excellent opportunity to learn more about our beautiful ocean planet and can play our part in the mission. We offer 3 PADI Specialty Courses we offer to improve our knowledge of marine life:
Underwater Naturalist, Aware Fish Identification,Coral Reef Conservation
which are part of the Mare Nostrum Diving Ustica
Marine Life Experience program
.



MARE NOSTRUM DIVING USTICA IS A PADI 5 STAR DIVE RESORT #25833 - ALL COURSES ARE RUN BY QUALIFIED AND EXPERIENCED PADI INSTRUCTORS.
Book Now